If you are looking for an optometrist in Canal Walk. Find us by heading to the upper level and it is located right near entrance number 7. The Canal Walk EyeQ store also provides an extremely wide-ranging set of professional eye services. From basic eye tests to a massive selection of designer sunglasses. This eyewear practice also offers very good parking and easy access to the store itself.
EyeQ Canal Walk boasts easy access, good parking and a wide selection of sunglasses, frames and contact lenses. There's sure to be an option to suit you, and our friendly and profession optometrists are able to assist with all requests. As a progressive optometry practice, EyeQ not only brings you the latest in designer frames, we also utilise state of the art equipment and cutting edge technology to ensure we get the best results. Seeing clearly has never been this simple, or this stylish!
A Full Prescription Glasses Service
At EyeQ Canal Walk we offer a comprehensive prescription glasses service for both adults and children. Starting with an eye test, we determine what type of prescription is needed, asses your current glasses if needs be, and potentially pick up on any underlying conditions that may need to be addressed. Thereafter, we'll assist you in picking frames, and our extensive selection is designed to suit all face shapes and preferences.
We stock a range of frames from leading brands such as Oliver Peoples, Paul Smith Lindberg and Tag Heuer. As well as the latest styles from top fashion houses such as Chanel, Dior, Dolce and Gabbana and Prada. From classic to contemporary, EyeQ caters to all tastes.
Once you've chosen frames our optometrist will send your glasses to the lab to be made up. You will then receive them back within a very short turnaround time.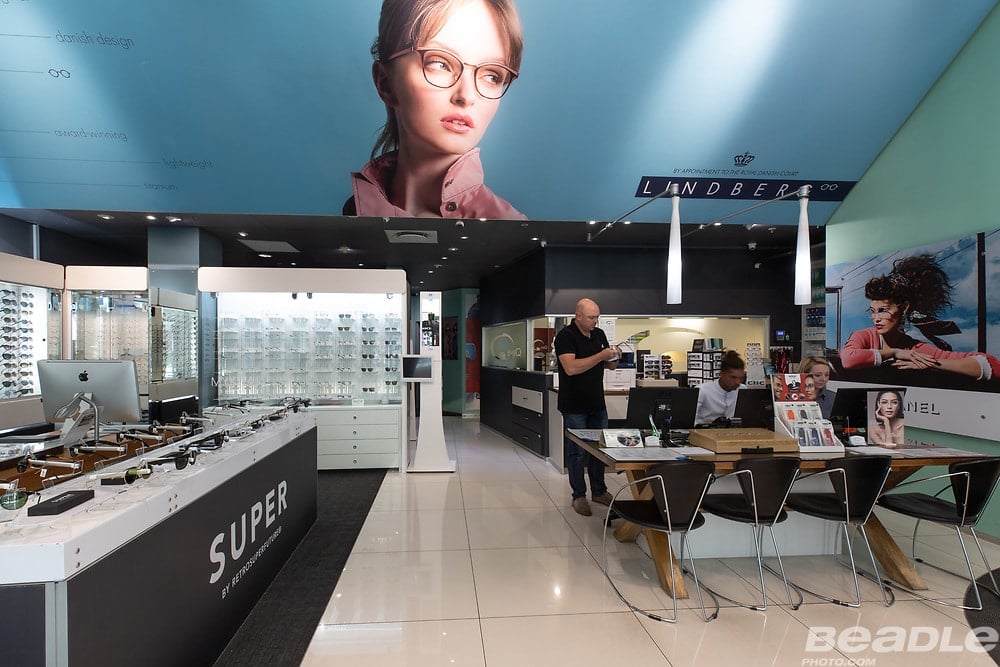 Complete Contact Lens Service
If you prefer contact lenses to prescription glasses or want to have the best of both worlds. EyeQ Canal Walk is able to assist in every way. Our optometrist's not only test your eyes and assist in choosing a type of lens that will best suit your lifestyle. They will also teach you how to fit your contacts and how to care for them properly.
Aesthetics and comfort are both very important for contact lens wearers and EyeQ stocks a wide range of both hard and soft daily and long use lenses, along with cleaning solutions and related products. Alcon, CooperVision and Bausch and Lomb are just a few of the brands we have in store, and all have an excellent reputation in the eyewear industry.
EyeQ endeavours to always stay up to date with the latest international eyewear trends and we're also proud to be the Western Cape's largest supplier of the latest daily disposable contact lenses.
Look After Your Eyes With Our Sunglasses
If you need prescription sunglasses or are just looking for a pair that's going to offer proper protection from the suns harmful UV rays, EyeQ Canal Walk should be your first choice. Our selection of men's and women's sunglasses grows all the time and we are always on trend with the latest fashions and frame styles.
Our range of sunglasses is extensive and we have options for everyone, from the enthusiastic athlete to the ultimate fashionista. If you like sportier styles, our selection of Oakley, Serengeti and Ray Ban's are ideal, and if you love hanging out at the beach, we also stock the hugely popular Maui Jim range. Anyone looking for the latest in high fashion frames will also find this seasons styles from brands like Prada, Bvlgari, Vogue and Chanel. buy soma 350mg online
If you are in need of an optometrist in canal walk, pop into EyeQ Canal Walk and let one of our optometrists help you.